CIVIC LEMON CREAM Tube of 30 g
Created Date: 03 Jul
0 Comments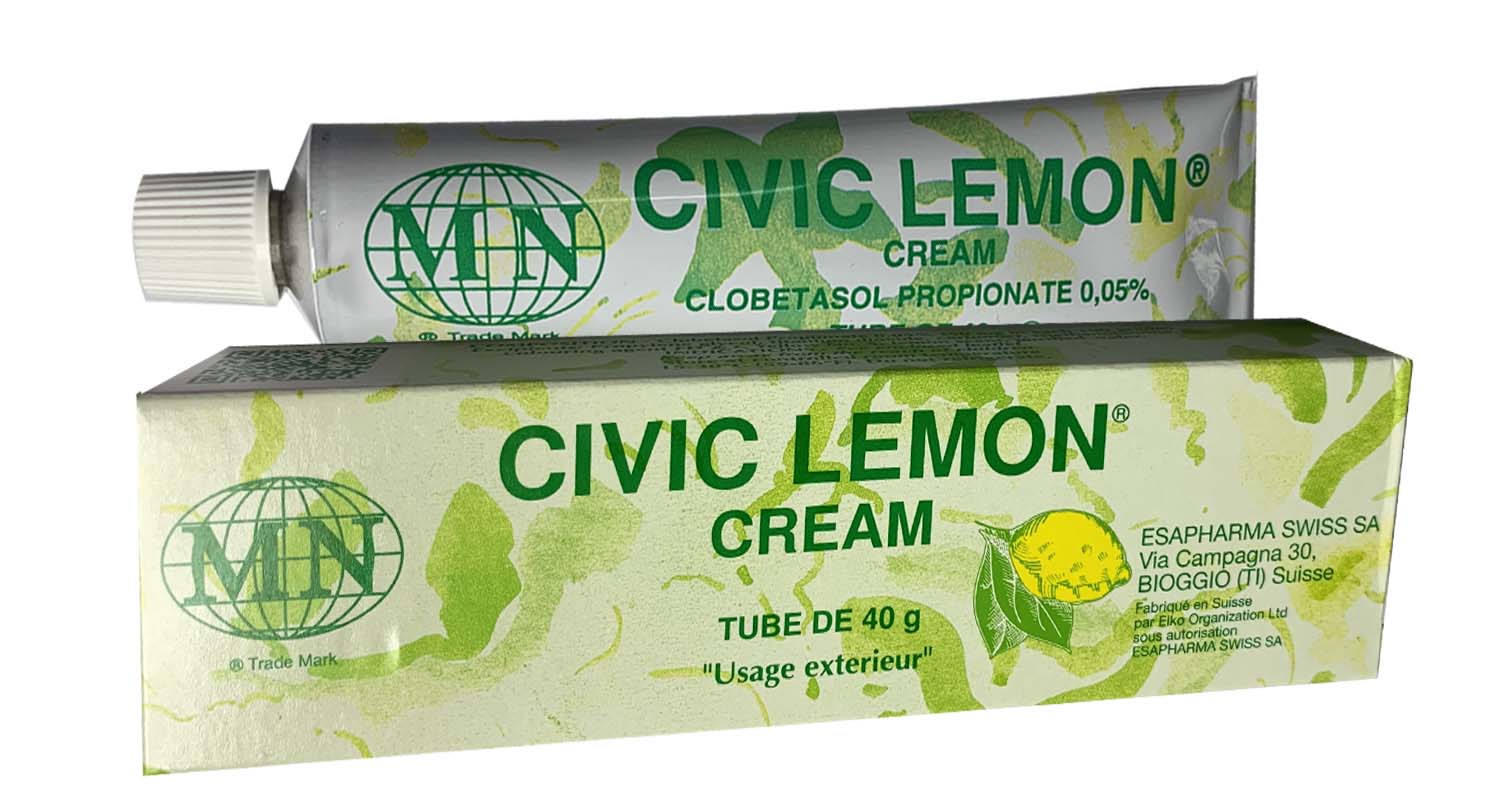 CIVIC LEMON CREAM Tube of 30 g
"FOR USAGE EXTERNAL ONLY"

Description: CIVIC LEMON CREAM contains the active compound clobetasol propionate, a synthetic corticosteroid, for topical dermatologic use. Clobetasol has a high degree of glucocorticoid activity and a slight degree of mineralocorticoid activity. Each gram of the 0.05% cream for topical administration,contains clobetasol propionate 0.5 mg in a base of propylene glycol, titanium dioxide, carbomer and purified Water.
INDICATIONS AND USAGE:-Clobetasol propionate cream is a super - high potency corticosteroid Formulation indicated for the relief of the inflammatory and pruritic manifestation of corticosteroid-responsive dermatoses.treatment beyond 2 consecutive weeks is notrecommende, and the total dosage should not exceed 50 g per week because of the potential for the drug to suppress the hypothalamic- pituitary-adrenal (HPA)axis.Use in children under 12 years of age is not recommended. As with other highly active corticosteroid, therapy should be discontinued when control has been achieve. If no imprisonment is seen within 2 weeks,reassessment of the diagnosis may be necessary .
CONTRAINDICATION - Clobetasol propionate cream is contraindicated in those patients with a history of hypersensitivity to any of the components of the preparation.

PRECAUTIONS:-Clobetasol propionate is a topical corticosteroid that has been shown to suppress the HPA axis at doses as low as 2 g per day.

CIVIC LEMON CREAM should not be used in the treatment of rosacea or perioral dermatitis, and should not be used on the face,groin, or axillae.

PEDIATRIC USE - Safety and effectiveness of CIVIC LEMON CREAM in children and infants have not been established; therefore, use in Children under 12 years of age is not recommended.Because of a higher ratio of skin surface area to body mass, children are at a greater risk than adults of HPA axis suppression when they are treated with topical corticosteroids. They are therefore also at greater risk of glucocorticosteroid insufficiency after withdrawal of treatment and of cushing Syndrome while on treatment. Adverse effects including striae have been reported with inappropriate use of topical corticosteroids in infants and children.

ADVERSE REACTIONS:- in a controlled trial with CIVIC LEMON CREAM the only reported adverse reaction that was considered to be drug related was a report of burning sensation (1.8% of treated patient.) In larger controlled clinical trials with other clobetasol propionate Formulations.the most frequently reported adverse reaction have included skin atrophy,and telangiectasia. Cushing syndrome has been reported in infants and adults as a result of prolonged use of topical clobetasol propionate formulatio. The following additional local adverse reactions are reported infrequently with topical corticosteroids but may occur more frequently with Super high potency corticosteroids such as clobetasol propionate cream . These reaction are listed in approximate decreasing order of occurrence dryness,hypertrichosis , acneiform eruptions.hypopigmentation, perioral dermatitis, allergic contact dermatitis,secondary infraction,striae, and miliaria.

OVERDOSAGE- Following topically applied CIVIC LEMON CREAM, clobetasol propionate can be absorbed in sufficient amounts to produce systemic effects
DOSAGE AND ADMINISTRATION- Apply a thin layer of CIVIC LEMON CREAM to the affected area twice daily, or according the physician prescription and rub in gently and completely the active ingredient of CIVIC LEMON CREAM clobetasol propionate, is a super High Potency topical corticosteroid. Therefore Treatment should be limited to 2 consecutive weeks and amounts greater than 50g per week should not be used.CIVIC LEMON CREAM should not be used with occlusive dressing.
Dear Customer
more about this product you want understanding please contact our customer service really help you to to meet our cosmetics specialist & doctor